Naomi Uemura's ascents of five famous mountains are commemorated with a 1970 diver's watch modern re-interpretation with a dial depicting Mont Blanc.
The Backstory
Five years after making Japan's first diver's watch in 1965, Seiko introduced a new diver's watch with a flowing case design and an asymmetrical extension that protected the crown at the four o'clock position.

This 1970 diver's watch proved its reliability in extreme conditions when it was worn by Japanese adventurer Naomi Uemura in the Arctic region.

Born in 1941, Naomi Uemura was a university student when he took on the challenge of his first mountain climb. By the age of 29, he had climbed Mont Blanc, Mt. Kilimanjaro, and Mt. Aconcagua, and, in 1970, he became the first Japanese mountaineer to reach the summit of Mt. Everest. Just three months later, he reached the top of Alaska's Denali (then known as Mt. McKinley) and thus became the first adventurer in the world to reach the summits of all five of these peaks.

Today, Uemura's ascents of these five mountains are commemorated with a 500-piece limited edition watch whose dial depicts Mont Blanc, the first of these climbs.
DESIGN
Dial
Mont blanc's soaring summit as seen by Uemura.
The textured dial features an image of the distinctive silhouette and contours of Mont Blanc over a patterned backdrop that echoes the mountain's rocky and snowy surface. Pressing and etching techniques are used to give the dial depth and bring the 4,807-meter peak to life. Mont Blanc is presented at the very same angle from which Uemura began his ascent.

All of the hour markers have a generous coating of Lumibrite, as do the hands, to maximize legibility in the dark. Thanks to the positioning of the date window between four and five o'clock, 12 luminous hour markers are possible.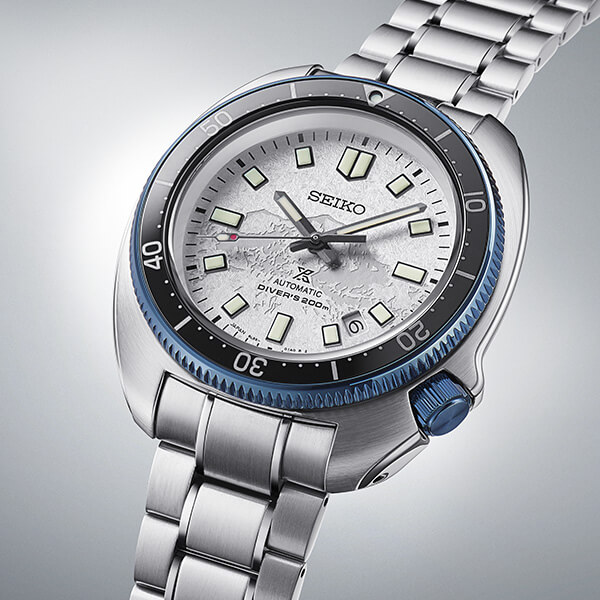 Special Box
The watch is presented in a special box featuring a saying of Naomi Uemura.
"When one dream is realized,
other dreams will follow."
Naomi Uemura